This is my 1st whitetail buck! One shot and he went down within 47 yards! He did suffer some serious "ground shrinkage" but I am still happy with him! From 15 feet above, he looked enormous. I also got a doe. I hunted with Front Porch Outfitters in Junction, Texas on 20,000 acres of free-roaming property. My guide, Roy Maddox, was great and provided good food and nice accommodations! It was a fantastic 5-day hunt!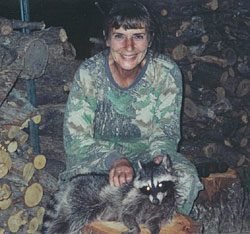 I have now discovered 24 hours a day hunting! Roy took me coon hunting with a rifle one night and I loved it! I think he regrets that as I had him in the woods until midnight! Of course it was up at 4:30 a.m. and heading for tree stands the following morning! He was a bit tired and not overanxious about another night run.
It was good to get home and read through WesternHunter.com.
Jan Perry
California