As I walked up the street toward the Elks Lodge, I met a man and woman coming in my direction, walking away from the building. "It's standing room only," said the man as he got closer to me.

I thought it might be that way even though I was only five minutes late for the event. I had parked a block away from the Elks Lodge as its parking lot was packed with cars and trucks, and the street was lined on each side in both directions with vehicles I was sure belonged to those inside.

It was just two weeks before the opening of California's Spring 2002 turkey season and the spring-like conditions had the hunters as excited as gobblers during mating season. More than 250 turkey hunters packed the Elk Grove location for the California Wild Turkey Expo 2002, sponsored by the DFG, Wilderness Unlimited and the National Wild Turkey Federation.

The Expo began with Captain Jack Edwards of the Department of Fish and Game acknowledging Wilderness Unlimited and Terry Knight for initiating the Expo five years ago.

Speakers at the four-hour event included Scott Gardner, wild turkey biologist with the DFG; Terry Knight, outdoor writer and retired turkey hunting guide; Dan Stahlman, gunsmith and turkey hunter; John Higley, author of Hunting Wild Turkeys in the West; Ron Sneed, archery turkey hunter; and finally Bruce Wurth, maker of custom turkey calls.

An informal poll of the audience showed that 20-30% had never hunted turkeys. Another 30% had hunted turkeys but never taken one. Even those who had taken turkeys were here for one reason — to improve their chances of bagging a turkey.

While many hunters are faced with decreasing hunting opportunities in California, turkey hunting is bucking the trend. Not only is hunter interest high and increasing, the turkey population also is expanding both in size and range. The only negative that DFG's Scott Gardner communicated to the group is the halt in turkey relocations which had taken place in California the last two years. Threatened lawsuits by environmental groups have slowed an increase in opportunities for Golden State hunters. Gardner hopes for a change with the newly released draft environmental document which proposes planting turkeys in six areas of national forests in northern California.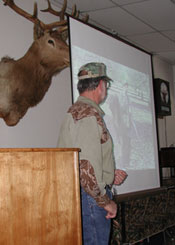 Terry Knight kept the hunters rolling with laughter as he covered what it takes to be a successful turkey hunter. From scouting to cooking, Knight gave everyone something to add to their bag of turkey hunting knowledge.
John Higley provided insights into why those gobblers don't always appear 25 yards from the end of your shotgun barrel. More often than not, Higley reassured the hunters, it wasn't anything that they had done or not done.
Following Higley, Dan Stahlman covered turkey guns, shotshells, and chokes. While Stahlman informed the group that you can bag a turkey with most any 20- or 12-gauge shotgun, he stated the reason you should buy a turkey gun is because it is "the American way of life." After all, you would be helping the economy. (The hunters wholeheartedly agreed or at least I did!)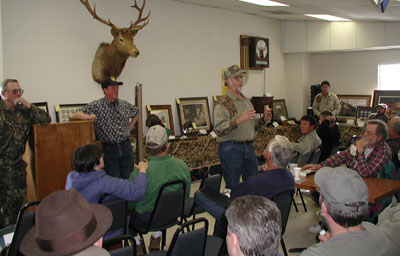 A number of hunters in the audience also hunted with archery equipment. Ron Sneed shared his turkey hunting experiences while updating hunters on the latest archery equipment for turkey hunting.
Finally, Bruce Wurth demonstrated the two most common calls that turkey hunters should know, the yelp and cluck. Wurth covered box calls and slate calls and gave hunters tips on using both.
The information which was provided at this seminar would have been well worth paying for but the good part was the entire Expo was free! Now the hard decision — should I spend that saved money on Remington's new HEVI•Shot, another turkey call, a hunting vest, or…