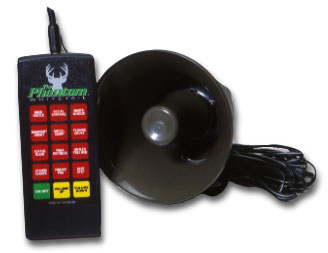 Extreme Dimensions Wildlife Calls
Extreme Dimensions Wildlife Calls were a hit on the market in whitetail country two years ago when they brought out their Phantom Whitetail call. Earlier this year their production of the Phantom Predator call was released. Not only are both calls unique in the western hunting market, they are excellent in durability, and they both performed well in calling western game. Both calls are roughly the size of your TV remote control. Both of the "digital" calls are powered by a single 9-volt battery. And either one, including their 6-inch speaker and 60 feet of cord, weigh only 28 ounces! Their 15-button soft touch keypads include unbelievably realistic movement and animal vocalizations. Two sounds can be played at the same time, with volume up and down features. Great, you say. I can call coyotes, fox, bobcats, bear and cougar with the Phantom Predator model (and in testing, the unit performed great on all of these!), but what the heck would I do with a whitetail call in blacktail country?
Well, step a little closer son, so the others won't hear — It works great during the western rut season! The rattling and vocalizations from this call were answered by buck after buck, and doe after doe, coming into my setups. Although I didn't actually use the call in strictly muley country, I have used whitetail mouth calls, and rattling antlers on muleys in the past with good results, so it doesn't seem out of reason that this call may give good results there also — we simply haven't experienced this yet. Contact Extreme Dimension Wildlife Calls at (888) 239-5133 or see them on-line at www.phantomcalls.com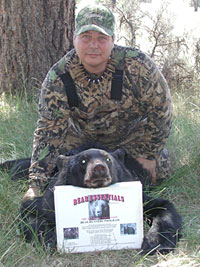 Bucks-n-Does HSE (Human Scent Eliminator)
We have field-tested these products for two seasons now, and they are still only slowly moving into the western hunting market. But, WesternHunter.com staff have found them to be across-the-board winners. With a full line of more than 40 scent and scent elimination products, Bucks-n-Does HSE has been a secret kept too long. Their Bear and Elk scent programs performed beyond expectation. And their recently offered Mule Deer tarsal and estrus scents made the killing of large blacktails an easy reality during the rut season. Even after leaving a rattling setup where it was chosen not to kill the deer, a re-check of the latter showed the ground was torn to bits around each scent site by deer after deer which continued to be drawn into the area. Most impressive! Contact Buck-n-Does at 800-782-6686 or on-line at www.bucksndoes.com

Reaper Tree Ladder
Have you ever had your treestand stolen? Ever come to your treestand and find someone sitting in it? Ever wander through a grove of oaks with your climbing treestand and wish you could get up into their tops so you could kill feeding game? We at WesternHunter.com came across the most lightweight and convenient tree ladder on the market. The Reaper tree ladder from American Sportsman Adventure Products is a very lightweight collapsible climbing pole that is built sturdy, convenient and with both safety and function in mind. This aluminum tube-in-tube unit is available in lengths up to 20 feet, yet slides back into itself (when stowed for carry) to a length of just over 5 feet and 10 pounds in weight (excluding the separate steps). The Reaper pole comes with reduced-weight steps that quickly slide into place and are held there with a self-catching pin so they won't come out unless you remove them. The pole has spring detent buttons to securely orient each extended section for easy and quick insertion of the locking pins. The Reaper can easily be extended vertically up through overhanging limbs or on the ground and tilted into place. It is held snuggly to the tree by strong nylon rope that wraps to marine-style cleats. A unique feature of The Reaper is the removable limb saw. When attached to the top of the pole and held in place by its spring-loaded detent button, it provides a 20-foot-long pole-saw to remove limbs that block your shooting lane. And the saw is very easily popped off with a push of the button and can then be used as a hand saw for cutting on the ground or once you are in your stand. The Reaper is sturdy for hunters up to 250 pounds and is quick and quiet in both set-up and use. You may contact American Sportsman Adventure Products at www.asapsite.com
We at WesternHunter.com want to remind all of our hunters to always use a safety strap while climbing or sitting in a treestand. We want you to come out of the woods as healthy as you went into them.
For other great post-Christmas gifts that you may wish to buy for yourself, please visit WesternHunter.com's Back Issue's link on our homepage and find great "tried-and-true" products previously field-tested for you.
THINK A GOOD THOUGHT!
Frank Medicine Wolf Springer