"Kids Calling Coyotes," — this is a must-see video.

Why? Because it isn't your typical bubba goes hunting, it isn't about whitetails, and it isn't featuring a well-known hunting personality with a planned hunt and a prepared script. What it is, though, is just plain good and a hunting video that I think you will enjoy.

The video, "Kids Calling Coyotes," features 13- and 14-year-old brothers Daniel and Stephen Bateman calling and shooting coyotes, and obviously having a great time while they're at it.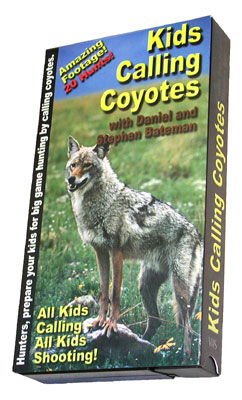 The Bateman brothers do all their own narration and on-screen dialogue. While this video will not receive an Academy Award, its natural depiction of hunting makes it far better than many hunting programs shown on television. Watching it may even have you picturing yourself at age 13 again as you go along with Stephen and Daniel on their coyote hunts.
Most of the coyotes in this video were taken with shotguns, which means they came in close enough for both the shotgun and the camera. There are some really great video scenes as coyotes come on the run only to end up facing these two young guns. Singles, doubles and three and four coyotes at a time coming to the Batemans' special "Lucky Bird Tape" call.
At the successful conclusion of many of the hunts, the brothers close with the line, "Let's go get some more." While it seemed a little funny at first to hear that line again and again, I quickly came to realize how real that line is when you're young and are completely caught up in the thrill and excitement of hunting.
The Batemans live in Oregon and that is where all 20 of the hunts take place — and all of them on public land!
The video is 65 minutes long and shows year-round hunts — hunts which took place during spring, summer, fall and winter. In addition, Daniel and Stephen give you hints on setting up and calling coyotes.
Doug Bateman, Daniel and Stephen's father, said he made the video in hopes of showing others how to involve their kids in hunting year-round and at the same time provide them with opportunities to practice their hunting and shooting skills to be better prepared for future big game hunts.
Unlike most other hunting videos, when I finished viewing it I was left with a smile on my face. Why the smile? Because I could relate to the fun these brothers were having — the outdoors, seeing wildlife, having their dad on the hunt, hunting, and shooting, shooting and more shooting.
After watching this video you will want to take your kids or grandkids hunting so you too can enjoy "Kids Calling Coyotes." (Or, you might just want to call your hunting buddy and try being a kid again yourself! You'll be doing the deer a tremendous favor at the same time, too!)
Jerry Springer
Editor/Publisher
To order this VHS tape:
Send check or money order
for $19.95 plus $4.50 shipping & handling to:
S & D Outdoors
Dept. WHC
P.O. Box 704
Glide, OR 97443