Is there a difference in the recoil from a rifle or shotgun when fired at game compared to when fired on the range? Ask any hunter and I am sure you will hear that they don't usually notice it when hunting but on the range, recoil can hurt! Some hunters even go home from the range with a black-and-blue shoulder!

Recently I had the opportunity to test new shotgun slug ammunition from Winchester while on a hog hunt. I was shooting a scoped Winchester Model 1300 pump shotgun. I wanted to make sure it was shooting dead-on so we set up targets at 50 and 100 yards. The new Winchester Supreme Platinum Tip Sabot Slugs are 400-grain and pack a punch in both directions.

Not wanting to punish myself while shooting from a benchrest, I put on a PAST Mag Plus Shield. This product is a heart-shaped recoil protection pad that is designed to give additional protection to the upper arm and creates more surface area to better dissipate recoil energy.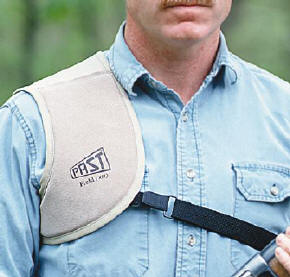 I shot more than a box of ammo to ensure that any hog I ran into would have a worse day than I would. When I finished, the shots were right where I wanted them at 100 yards.
This was the first time I had used a PAST recoil pad. Each time I fired the shotgun I was rocked back but I did not feel any discomfort from the recoil, nor did I have a black-and-blue mark when I was finished shooting — and I was wearing only a t-shirt under the pad.
Using the PAST recoil pad allowed me to concentrate on squeezing the trigger smoothly and making sure the cross hairs were steady, rather than anticipating the possible pain from the recoil.
Every hunter should practice each year at the range before their hunting trip to make sure they are as good as they can get with a rifle or shotgun. Using a PAST Shield makes that practice much more enjoyable. Also, if you have a junior hunter, get them started off right with those larger caliber firearms by giving them the protection afforded with this recoil pad. That way they won't wince at the thought of shooting their rifle or shotgun at range targets. The PAST Shield comes in different sizes and recoil strengths. My Mag Plus has a retail price around $42. For more information on this product, or to order it, go to www.midwayusa.com or call toll-free at 800+243-3220.
Remember — Aim small, miss small.