This year's California Pheasant Season is even longer than in the past. The season opens on Saturday, November 9 and continues through December 22.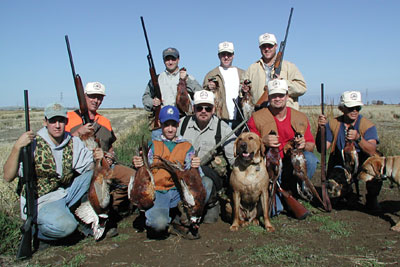 Pheasant hunting in California can be as varied as the terrain you find in the Golden State.
Here is a new opportunity for California pheasant hunters who would like to hunt pheasants in the Colusa area. Tom Dermody has a special pheasant hunting setup which runs during California's regular pheasant season. Dermody has 400-500 acres which has both wild and planted birds. Some of the released birds will be banded and if you bag those you will win some good prizes including a Browning Gold Shotgun. There are limited openings for these hunts so if you are interested, call Tom at (530) 473-2503.

One of the most awesome places to hunt pheasants is the Lone Pine Pheasant Club. The view while hunting is worth the price of admission. Located at the base of the Sierra Nevadas with Mount Whitney to the west and the Owens Valley to the east, hunters might find their eyes gazing at the scenery more often than looking for pheasants to take flight. Located in the Alabama Hills (location of many early western movies), a pheasant flushed in these magnificent boulders makes for wonderful background to the pictures of you and your game. To hunt this great club, contact Bruce Ivey at (760) 876-4595.
If you would like to hunt the rice fields of the Central Valley, Cahoon Pheasant Club in Escalon, California has plenty of harvested fields to chase the ringnecks which they raise themselves. The birds have been raised to be fast-flying birds not like some of the B-52 ones you can run into on other clubs. Hunters will find rice fields a real challenge if they don't have a dog. Cahoon's also has dogs and dog-handlers you can rent at the same time you book your hunt. You can contact Dave Cahoon at (209) 838-6085.