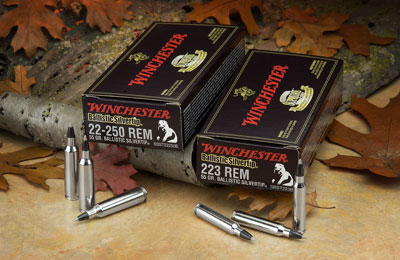 It's a windy day or instead of a ground squirrel, you're shooting at a coyote. Is the bullet in your varmint rifle up to the job? Well, is it? Maybe you need the new offering from Winchester.
In response to consumer demands, Winchester's Supreme® Ballistic Silvertip® line is now available with popular weight 55-grain bullets in two of the most popular calibers: .223 Rem. and .22-250 Rem. The heavier weight Ballistic Silvertip bullets improve long-range ballistics and reduce wind drift on those challenging long-range shots. The heavier weight bullets also add knockdown power for the bigger predators like coyotes and bobcats. Both new offerings are CXP1 varmint category Ballistic Silvertips.
Each of these new heavier weight Supreme varmint loads incorporate the proven Supreme Ballistic Silvertip design with a solid base boat tail for excellent long-range accuracy, Lubalox® coating to reduce engraving forces and barrel fouling, and the polycarbonate tip to resist deformation in the magazine. The Ballistic Silvertip polycarbonate tip, along with the soft lead alloy core, combines to ensure rapid fragmentation in varmint calibers.
The new .223 Rem. 55-grain BST load has a 3240 fps muzzle velocity at 1282 ft-lbs. of muzzle energy.
The .22-250 Remington load delivers 3680 fps muzzle velocity at 1654 ft-lbs. of muzzle energy.
The .223 Rem symbol number is SBST223B and the .22-250 Rem. is SBST22250B.
For more information on Winchester products, visit their website at www.winchester.com.