The California 2002 hunting season will be the one that my nephew, Eric Baker, and my brother Al Baker use to measure all future hunts. It was the most exciting, fulfilling, adrenaline-pumping hunting experience ever. To harvest one buck the size and quality of Eric's in a lifetime is more than many hunters could hope for, but imagine two wallhangers taken the same weekend by a father and his son in a state where often we can't find a doe, let alone a legal buck! Al and Eric, together, have harvested five bucks in four years.

We hunt zone D3-5 the old-fashioned way — no guides, no metal prefab-ricated blinds, no baited fields — just the basics. We scout year around, we locate both private and public hunting areas when the season is closed and deer are most visible. We have located BLM tracts, some inaccessible unless the adjoining property owners give access. It's hard work, but fun! I feel like a kid while hiking, following creeks and ridgetops, climbing trees and rocks, visualizing the perfect ambush point where trails intersect, and truly enjoying the total outdoors experience, not just for a day or two, but year around. What a blessing to live in the California foothills!

Eric could hear deer moving through the oak trees before shoot time. As soon as it was light enough to see, we split up with Eric moving toward the deer and I walking at the edge of a draw 75 yards parallel. The deer — a doe, a legal buck, a really nice 4x4 outside his ears, and a monster buck with heavy horns — hadn't moved more than 100 yards away from us in the 1/2 hour we sat waiting for light. We hadn't been split up three minutes when I heard the 7mm erupt. Eric was using my gun and didn't realize that the trigger was adjusted a lot lighter than his gun, causing him to miss the shot. As the deer trotted away, we realized we couldn't keep up and decided to go for broke and run at a right angle away from the deer. That took us down to the bottom of the draw, up the other side and we whirled to look back on the ridge where we had been.

There he was, the monster buck, broadside, 150 yards looking down at us. We were gasping for our breath, but after taking a good rest, Eric made a beautiful, clean shot on an incredible trophy buck.

Al didn't need to get a buck to have a great season. Just knowing his son was successful and having the hunt of his life was enough for him. He was a very proud father.

It doesn't take long to run out of hunting areas, since we hunt relatively small acreage, and we were on our last leg Sunday afternoon, the last day of the season.

There were two does standing motionless in a draw. Even though they were only 75 yards away, we glassed all around them, peering into the thicket behind them. We have learned that if we pretend we are hunting quail, rather than deer, we jump many hidden animals that have learned to hold tight and let hunters pass. Another tip is that when the rut has started, quite often the does will escape the bucks by crawling into the berry vines, but the bucks aren't far away!

Nothing was visible around the does but we decided to make a drive through the draw just in case. Al circled the does and placed himself on an overlook about 100 yards below them on a well-used game trail. I got the short straw, again, and was elected to drive the does down the draw through the brush, berry vines and deadfall to my waiting brother. I wasn't carrying a gun since I had already filled both my archery and general tags. I hadn't gone 30 yards into the draw when I saw nothing but horns rise up from a hidden bed. My heart pounded in my chest. Boy, I should have saved one of my tags! The buck didn't want to leave the does, but my continued advance, now within 20 yards of him, caused him to spin away and trot down the trail I prayed my brother had located.

My mind raced with anticipation as the buck distanced himself. What a buck! Would he stay on the trail we had located months before, or veer off? My questions were answered with the sound of a .30-06 breaking the silence. He ran right smack into my brother, a 50-yard shot coming straight at him. I teased Al that it didn't take a lot of skill at that distance but he only scoffed. The mass of the buck's horns was awesome and what a beautiful, symmetrical rack he had!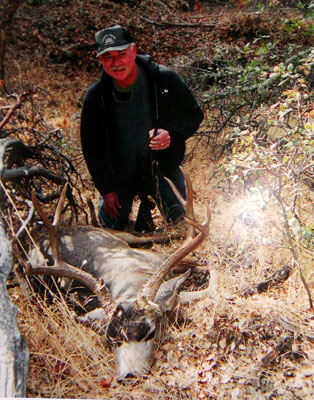 We had such a wonderful year of hunting and we have memories that will last a lifetime.

Good Hunting!

Submitted by Steve Baker
California