The first week in November found me and my longtime hunting partner Tom Corbey in the east of Montana. Once again we had been successful in the nonresident general deer-only combination draw.

That evening, as we headed east from our North Idaho homes with horses in tow and mule deer on our minds, we found ourselves nearly completely alone on Interstate 90. The day of our departure coincided with the first snowstorm of the season, and it was a whopper of a blizzard. We turned the hubs in as we crossed the Bitterroot divide and traveled half the night in 4-wheel. Every mile of it was on packed snow and ice.

East of the Continental Divide, when we finally quit for the night near Helena, Montana, we found the water system in my supposedly insulated-to-twenty-below camper frozen solid. That night the temperature plummeted to near zero. In the 12 days to follow, we would come to appreciate that first night's balmy overnight low.

Tom and I spent a day or so prowling around one of my old spots near Helena, and encountered several bucks including a couple which I characterize as "average mature," 22" to 25" wide with 4 points to the side plus eyeguards.

With all the snow and cold weather, all game was "on the move," constantly trying to consume enough calories to fend off the subzero temperatures. The deer were especially active as the bucks, both mule deer and whitetails, were really putting the "heat" on the does.

Conditions could not have been better for those of us who are interested in harvesting mature, and perhaps if lucky, trophy bucks. Several inches of fresh powder snow, beautiful clear sunny cold weather and the rut coming on. What a great time to be alive and be in the Rocky Mountain West, the Great Land.

With nearly two weeks set aside for this hard-to-draw hunt, we elected to pass on these bucks and head farther on into the backcountry. A day later, a bit closer to Canada and a whole lot colder, we — Tom, myself, Ranger, Buck and Ginger, my lop-eared mule — pulled into what would be our base camp for the next 10 days.

We also drove into record cold, even for November in Montana… 15 degrees below zero and sustained 40 mile-per-hour winds. Wind chill? Yeah, that's what it is called, but somehow "chilly" just doesn't seem to quite describe what we endured.

We had come prepared to pack in as far as necessary to reach the deer on their summer range back of beyond, but instead, due to conditions, on our first day we saddled up and plunged into the mountains to have a look-see around.

With Ranger leading our little pack string and bucking the chest-deep, drifted snow, we pushed our way up into the canyons. The first time we set up to glass, it soon became apparent that the deer as well as the elk were pouring out of the high lonesomes and headin' for their winter range. Game and their sign was everywhere.

It did not take long for our "What's the smallest buck you will take?" standards to rise dramatically. Good, decent 4-point bucks in the 160 B&C class were seen on a daily basis. Off and on all day, every day, we had mature breeding bucks in the glasses. It felt like the "good ole days" of my youth, bowhunting Nevada and the legendary Kaibab in Arizona during the mule deer heydays of the '60s.

Each herd of mule deer does had a good buck and the wannabe forkys, immature 3- and 4-points cruising about the fringes, like a junior high kid at his first school dance. They know something is going on, just not quite sure how to go about it.

Ah, but where is that one buck that mule deer hunters everywhere have always held up as the standard of a "trophy" deer? You know the benchmark. That elusive and seemingly impossible to find thirty-incher, heavy of beam and deep in the forks? I don't care what he scores, just as long as the tape stretches to the big 3-0!

Sure any buck, any deer for that matter can be considered a personal trophy, depending on one's desires. I was never prouder of any buck than my 12-year-old son's first 2x3 coastal blacktail.

But what remains "out there" for those of us who have been fortunate to grow up in the West during the great mule deer herds of the '60s and '70s? We have seen the tremendous numbers of deer and taken for granted all those big bucks on public land, and actually harvested a few of what some consider the greatest game animal of the West. Was it possible to recreate the past on public land in this, the new millennium with its depressed mule deer populations?

As the days wore on and the wind blasted our exposed faces, Tommy Boy and I kept our chins in the wind and our watering eyes glued to the Zeiss and Swarovski glasses. Maybe such bucks did not exist any longer here. After all, this was our first time in this particular area. But where to go?

We had decided that there was no need to pack in and spend a good portion of our hunting time gathering firewood to keep the tent warm for our morning and evening visits.

The camper remained frozen in spite of the brilliant, bright sun and the furnace blasting day and night. Each day we arose before daylight, saddled and battled our way into new canyons and draws. In short, we were enjoying ourselves immensely.

Finally, first time up into a high basin tucked tight up against the cliffs and reefs as they are called locally, I glassed up a buck that Tom found to be "sure enuff, good enuff." He wasn't thirty, but he was close. Taller than he was wide and good forks, he was a 180-class buck, definitely a shooter.

Unable to close the distance, a long crosswind shot did not work out. Tom was not content to give up and look for another so we tracked that buck through the knee-deep snow down off the mountain, giving up after dark as the next howling blizzard set in upon us.

It was long haul back up to where the stock was tied. With our backtrail blown out as soon as you took the next step and the GPS tucked safely away in my saddlebags back on the mule somewhere, it felt like we were nowhere. It was a bit of a roundabout route to relocate our mounts.

After that climb in the dark, it sure felt good to be back in the saddle. Better the livestock "sweatin-n-gruntin" than me, to my way of thinkin'. I gave Ginger her head and two hours later in zero visibility she pulled up at a large object in the dark. It was the truck and trailer.

If I had to guess I would have to say that the wind gusts that night hit 75 to 80 miles per hour. Awakened by the fierce hurricane-force winds during the night, at one point I was quite sure that the whole outfit — truck, trailer with livestock and Tom attached — was headed to South Dakota. We slept in a bit the next day.

Propane about gone, food running low and literally down to our last half bale of hay and handful of grain, we began to doubt not only the area but our abilities as well.

As the snow piled up around the outfit, it was clear that we were not going anywhere without some shovel work, the winch and chained up all the way around. I thought this was a county road? Where was the snowplow? Maybe we should get out while the getting was, well, not good certainly but at least still possible. Should we give up and head for the barn now?

The fact that not one other hunter had been seen in the past week gave our deer "hunt" a surreal feeling. Were we actually deer hunting or had we crossed over into the Twilight Zone?? Was the season really open? Where was everybody?

Elk were everywhere and the season was on. We saw 22 legal bulls in one bunch, for crying out loud. Where were the locals? Maybe it was actually quite simple. Maybe it really was too damned cold and tough to "go hunting."

Little whitetailed bucks of the river bottoms sneaking in to snatch a bite of alfalfa amongst our horses at first light tempted us. But shoot sakes, we had two weeks of whitetail hunting at home yet, if we ever got out of here.

No, we would stay until the last dog died. And so we pressed on, it was a good mule deer buck or go home empty.

Before the alarm went off on the eleventh morning of the 12-day hunt, I awoke to a most unfamiliar sound. From my bunk I called out to Tom and asked if he heard it also. As he began to hum a few bars of Simon and Garfunkel's famous tune, the Sounds of Silence, I then knew what it was I had noticed. The wind; it was no longer howling — not the slightest breath of a breeze was stirring.

Forking out the last of our hay to our three companions in the still subzero darkness, I thought to myself, today has got to be it. We could not expect our faithful cayuses to carry our sorry carcasses through these conditions without proper nutrition. There was no time to go find and buy more feed before we had to leave and head back home to Idaho. The weather had given some. Would something else give too? How about you Montana backcountry? Would you give up one of your big mule deer bucks?

As your humble writer matured in his hunting career, I have always felt after the first moments of realization that your hunt has been successful and your critter is on the ground in front of you, that in the whole scheme of the hunt, the kill is really anticlimactic. Harvesting your game is an important and essential reason for the hunt, to be sure. One kills to have hunted, but the kill is still not what it's really all about for some of us.

And so it was with our bucks. Three hours after riding away from camp that day, I rode over a rise into a little hidden basin and there he was. In much less time than it takes to tell of it, my personal goal of collecting another 30-inch buck was all over.

I bailed off the mule, jerked the All Weather Ruger 77 300 Win Mag outta the scabbard, and let fly offhand at a bit over 100 yards. At the shot my buck lurched forward, heart shot. Ginger, the mule, lurched backward, yanking the reins out of Tom's hand as she headed for parts she considered less noisy and mule dangerous.

Sure I glassed him quickly first and instantly knew this is what I had come for, but there was no long stalk, no meticulously laid plot to put the sneak on him, no long moments of anticipation and angst.

In the same basin, Tom set up his sticks and put the lead to the second-biggest buck in the bunch and that was that.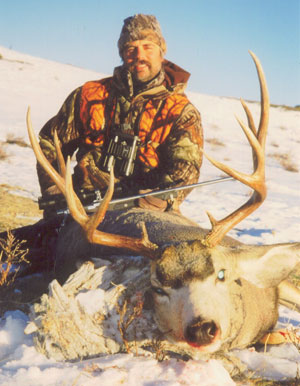 After the obligatory whoops, hollers and photographs, Ginger musta got to feeling a trifle lonely and Tom heard her braying and carrying on off toward camp and the feed trough. She was blissfully unaware (as I had not mentioned it to her) that there was not a scrap of feed to be had for her or her four-legged friends at camp, therefore no real reason for her to run solo all the way back there.

I was able to ride over on Buck and collect her. I decided not to heart-shoot her as well for abandoning her post because as it was, we had a very long way to get our meat to camp. Besides, with a 30-inch 6x7 buck tagged and bagged, I was in a very happy state of mind right then.

Between the two of us, we muscled Mr. Big up on Ginger and buttonholed him to the saddle horn. She only bucked him off once while getting him on board when his horns tickled her in what she must have felt was a most delicate spot. But eventually we got him and her acquainted and hoofed it for camp and home.

You know a fella just doesn't get to see, let alone collect, many bucks like this in today's present mule deer climate, and therefore this ole buck is special for that alone. But when I get him back from the taxidermist and get him up on the wall, not only will I enjoy him for what he is and all that goes along with what it takes to grow such a buck, but moreover, he will bring back those memories of Tom, our 4-legged crew and our 12-day Cold Mountain Montana mule deer hunt.