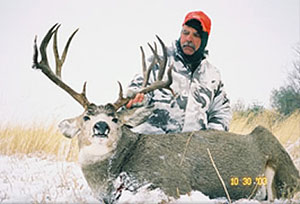 If you want to hunt deer in Nevada or Wyoming this year, you better move quickly. You only have a few days to get your applications in for the special outfitter drawing in Nevada or the regular Wyoming drawing.

The deadline for the Nevada Outfitter deer tag drawing is March 12th. If you want to be in the Wyoming drawing for deer, the deadline is March 15th.

If you miss these drawings it will be a long wait until next year.

For those of you who do not have your favorite area to hunt and/or lack the time to do the necessary scouting, using an outfitter can often be the difference between a good hunt or just spending your time looking for the right place to hunt.

Readers often ask us if we know of good outfitters. Here are two outfitters that we know and believe will give you good hunts. You have very little time left, however, and their openings may be limited, if available at all. So, if you want to try for a Nevada or Wyoming hunt for this upcoming season, you don't have any time to waste.

Good Luck and send us your pictures.