Early in the Season

My son Matt saw his forky coming toward him at a fast trot from over 700 yards away. He watched it and figured out which direction it was heading and had to run a couple hundred yards to get in position for a shot. Finally, he had his shot at around 250 yards, bam! It just grazed the deer's back. The deer went out of sight. Matt said he walked down to where he had last seen the deer, looking for blood. He said that the deer had run up a wash and was moving away at about 100 yards when he lowered the hammer and down the buck went. As he approached his deer he told me that he was kind of glad that it was not a large deer because he knew he had to pack him out over the mountain, 1 1/2 miles, to where we were to meet.

I was at the meeting spot when he came on the radio and said he had his deer. I was so happy for him. This was the second day of the season, October 12, 2003, and just three days before my 55th birthday.

That evening Matt and I went to another area where I was dropped off and would meet him in two hours at the bottom of the mountain. On this hunt I saw four does and one small buck but the buck managed to get away without me getting a shot. We always say that in D17, if you see one buck you are lucky and if you let him get away then your odds of seeing another are slim to none. My son was not too happy with me when I told him that I had seen a buck but could not get a shot. Oh well, I had seven more days of vacation and seven more days of hunting. (The year before I took my buck on the ninth day and the year before that it had taken 11 days.)

The next day we left camp and were heading out to find me a deer. When we were only a couple miles from camp I spotted a 4x4 not 50 yards from the road. As I exited the vehicle the deer was exiting the area. After I ran more than 100 yards I managed to get off two quick shots but a combination of a running buck, the distance, and the trees resulted in misses.

My son went back to the vehicle and drove to an area where we last saw the deer. I went after the buck on foot.

After an hour walk I me Matt and suggested that we head over to where I had taken a large buck two years earlier. Matt said, "No!!!! Take me back to where we jumped that buck, I want to track him and find out where he went."

OK, back we went. I dropped Matt off and then drove back up to the meeting area a couple of miles away. I parked the truck and got out. I really did not think that the deer, by now, was within 10 miles of us. I stood there watching some ravens harass a golden eagle then started walking in the direction of my son. I called him on the radio and asked if he was able to find the tracks.

"Yes!" he said, he was on them and they were heading in my direction. Still I was not convinced this deer was in the area. I walked about 400 to 500 yards from the truck when I saw the buck coming in my direction on a fast run, coming up the wash about 200 yards away. I could not believe it. He was moving fast and I missed. I then got down on one knee and said to myself, take your time and make the shot — it was right through the upper shoulder and that was it!

Matt said he tracked this deer to where the buck had stopped in some thick trees and must have watched me walk by earlier. My son did not see the deer take off but had jumped it and I was lucky enough to be in the right spot at the right time.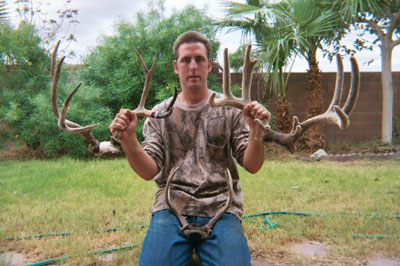 Matt McDonald shows off the racks of his forkhorn and his father's 4x4 and 3x4.


My Second Deer

Matt spent all Saturday, November 1, 2003, scouting and hunting from Vidal to Blythe in D12, about 85 miles south of Needles, but did not get his buck. He called me Saturday night and said be ready to leave the house Sunday morning at 3:30, as he had found a field and we should be there at daylight.

The odds of me taking another deer seemed slim but I was ready and we left the house on schedule. Matt knew exactly where he wanted us to be at daylight.

We parked the car just off of Highway 95 and walked about a quarter mile up a wash, then climbed up to a high vantage point. As daylight came we were overlooking a field about 800 yards away. As we glassed the field we could see nine deer but could not tell if they were bucks or does. A little more light and we could make out one large buck and one forky, still 600 or 700 yards away. We were hoping that they would use the wash we were sitting on for their return trip to the hills. As we watched the two bucks and one doe start in our direction, our hearts really starting pumping. We watched the deer disappear into the brush, and we sat still, hoping they would appear from the brush into our wash.

After about 20 minutes of silence and still very little light (it was an overcast morning), my son said, "Dad, there they are on the other side of the wash looking at us."

My eyes are not what they used to be and I strained to pick them out and after a few seconds I could make out the two dark spots on the side of the hill. Matt said, "Go ahead and take the big one." I had to ask him which one was the BIG ONE. "The one on the right," he said, "I'll take the forky."

This was about a 250-yard shot and to myself I thought no problem and put the cross hairs on the larger one's chest and fired. I hit low between his front legs — my fault, I flat missed. The buck took off to my right and I put the hairs on him again and fired. Once again the bullet hit low. My son squeezed off and the action on his .30-06 BAR was not closed and I heard the click, then a cuss word as he worked his action to chamber another round. By this time the buck had made it into a wash and was out of sight. I waited about 15 to 20 seconds, then the buck came up on the other side, quartering away at a fast walk. This time I held over him about 8- to 12-inches and let go, pop, he went down. I hit him in the lower back.

Matt told me that the forky took off after I missed my first shot and he concentrated on the big one. He was just about to squeeze one off when I fired and hit the deer. As we approached — still not a bunch of light — the body and the horns started to come into view. What a buck, still in velvet, 22-inches wide and 19-inches tall, 4x3 with double eye guards on each side.

It was 6:20 a.m. and we already had a beauty of a deer laying on the ground. We skinned him and took him to the butcher that morning. We must have cut 20 pounds of fat off and with no head or hooves he weighed 130 pounds. I guessed the guts, hooves, head, hide, and the fat we had already cut off came to around 100 pounds, so this buck must have weighed between 220 and 250 pounds.

Two deer in one year in California on public land. This would have never come true for this hunter if it had not been for the diligence and know-how of my younger son, Matthew. I owe my D17 4x4 and this huge D12 3x4 to him. I am a lucky man to have two wonderful sons that both love the outdoors and love to hunt and don't mind taking their not-so-fast father.

Author's Note:

I shoot a 270 Ruger with a Leupold scope that I bought in 1977 and have not used another rifle for big game since. I am really not that bad a shot but sometimes we just miss. My younger son Matt (21 years) shoots a .30-06 BAR, Leupold scope, that my father bought in 1972. My older son Josh (23 years) shoots a .30-06 customized Springfield with a Simmons scope that my dad bought in 1949. My dad passed away in 1978 and I just prayed that one day my sons would be able to use his firearms. My prayers were answered.

Editor's Note:
Cliff McDonald is a California sportsman who loves the desert area of southeastern California more than anyone else I know. I say this because he not only knows this area but spends an unbelieveable amount of time calling, writing letters, emailing, and attending meetings regarding what has been and is happening to the desert area. He has seen the government wreak havoc on the wildlife of this area in the name of returning it to its "natural state."