While talking about the fund-raiser, Phil shared with me the extra effort the chapter goes to ensure the meal also is an outstanding part of the event. Boy, was he right! I have attended numerous fund-raising dinners and the food at many of them is way down the list of highlights. Because my wife was also attending, I knew the quality of food would mean more to her than how many shotguns were on the raffle racks.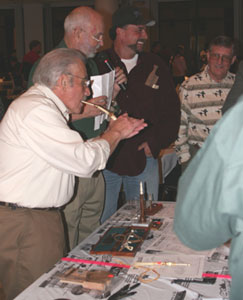 Phil Martinelli demonstrates his custom-made wing bone
call which was one of the items in the silent auction.
As we were driving home, I knew Diane had enjoyed the evening, too, when she told me she wanted to attend next year's dinner.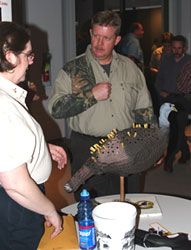 The Turkey Pluck game gave players a chance at winning a fine rifle.
Here are just some of the memorable things we liked about the Mount Diablo Chapter NWTF fund-raising dinner:
• A large and varied silent auction. There were lots of turkey calls — many of them custom made, even by members of the chapter.
• A nice package of items in the general raffle.
• Many first-quality and unique items in the auction.
• Great accomdations at the San Ramon Community Center.
• A speaker system for the auctioneer which was neither too loud nor too low.
• Special gun raffles.
• An excellent meal of antipasto, prime rib, chicken, pasta, etc. served family style — and everything tasted great!
• Finally, great company at the dinner table, Phil Martinelli and his wife Phyllis, Michael Flores - California Fish and Game Commissioner, Capt. Dick Fenner.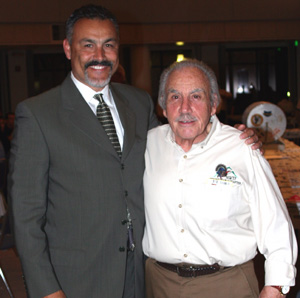 Fish and Game Commissioner Michael Flores (left) and California
NWTF state chairman, Phil Martinelli.
If you happen to be an unattached hunter — meaning you don't belong to a hunting organization — it's important that you join and support the organizations that are working to maintain and improve the wildlife you care about, whether it is deer, elk, waterfowl, turkeys, etc. Besides helping wildlife by attending their fund-raising dinners, you'll have fun and enjoy being with others who share your interests.