"What's Mark carrying?"

"Looks like a nice set of antlers!"

Change the name of Mark to one of your hunting buddies and you probably can relate to the comments above. How many of you have been walking through the woods, looked down and saw a set of antlers or a single shed? I think a lot of us deer hunters have stumbled across antlers like this. And, of course, we do our best to haul them back with us, either in our free hand or stuck somewhere in our belt.

Well, if you happen to be hunting in Utah or are out just being a shed hunter there, you need to know what the law is regarding picking up antlers. Please read on so you don't pick up the wrong antlers.

According to Utah law, a person may possess antlers or horns from legally taken animals, as well as "shed" antlers and horns.

A shed antler or horn is one that has dropped from a big game animal (a moose, elk, deer or pronghorn antelope) as part of its life cycle. Shed
antlers have a rounded base, commonly called a button or burr. The horns shed by pronghorn antelope are a hollow sheath. (Pronghorns are the only big game animals that shed their horns.)

Shed antlers and horns may be possessed at any time. There are no restrictions on their barter, trade or sale.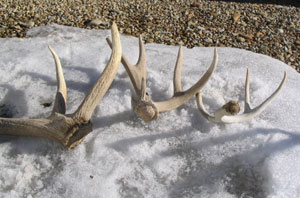 Legal antlers to collect.

In contrast, antlers or horns that are attached to a skull plate must have been taken legally or purchased from someone who took the animal legally. The person who purchases antlers or horns attached to a skull plate must keep a transaction record that includes the name and address of the hunter from whom the antlers or horns were purchased, the hunter's permit number and the date of purchase or sale.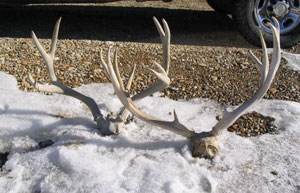 These antlers are illegal to pick up in Utah.

Antlers, horns and heads of legally taken animals may be purchased or sold only between February 15 and July 31 annually. The transaction record allows the Division of Wildlife Resources to identify animals that have been taken legally. This requirement makes it easier to identify big game animals that were illegally taken for the trophy value of their antlers or horns.

Shed gathering can be a great family outing. Utah officials ask that you please remember the following as you gather shed antlers and horns this year:

• Avoid picking up antlers that are attached to a skull plate. Instead, mark the area and contact your local DWR conservation officer.

• Respect the space and needs of wintering big game. Give them lots of room.