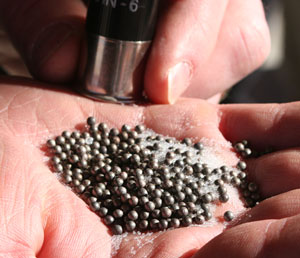 The Xtended Range Hi-Density pellets are round, unlike some others.
(Photo by Jerry Springer)

I was shooting at a Birchwood Casey Shoot-N-C turkey target set up at a distance of 40 yards. The results I had were impressive.



Here is my target with 55 pellet hits in the head
and neck area.
(Photo by Jerry Springer)

You want to make sure you can knock down those gobblers with one shot so it's best to call those big boys into 40 yards or closer. Besides having this new load in my shotgun during turkey season, I will be testing out the new Xtended Range shells on a couple of targets out beyond the 40-yard mark to see what kind of patterns are produced. Look for the results in an upcoming issue.

This year Winchester will offer the Xtended Range Hi-Density shot in three 12 gauge loads, 3 1/2", 3", and 2 3/4. Each load will be available in both 5- and 6-shot size. Velocity will be 1225 fps for all three loads. The 3 1/2" load will have 2 ounces of shot, the 3" load will have 1 3/4 ounces of shot, and the 2 3/4" shot will have 1 1/2 ounces of shot, the heaviest payloads available for this type of load.

For more information on this great new way to collect a turkey dinner this spring season, visit Winchester's website at www.winchester.com or look for this ammo at your local sporting goods dealer.