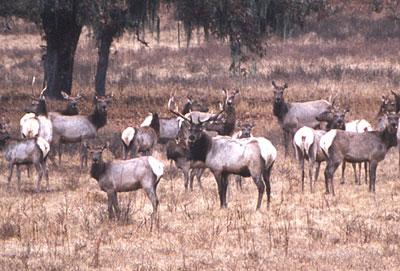 The California Deer Association's Santa Rosa Chapter and the Guntly Family are proud to present this great opportunity – A fully guided tule elk cow hunt on private land during the 2005 season.

Raffle Tickets
$20 each or 7 for $100

Hunt Package
One-on-one guided hunt for a tule elk cow
Your choice of hunt dates
Field dressing & skinning of animal
Cut and wrap of meat, ready for freezer
Hunt Period September through last weekend in November
The hunt will take place on the Coldcreek Ranch
in Potter Valley, California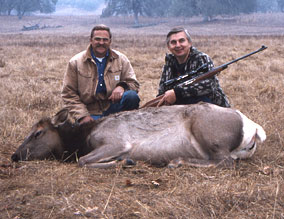 Your guide, Jim Guntly (left), knows this elk herd well and can put a tule elk in front of you — the rest is up to you.

Drawing August 15, 2005
For more information or to order tickets by phone,
Contact Rich Krona at (707) 585-9756.
Name ___________________________________________

Address _________________________________________

City ____________________________________________

State ___________________________________________

Home Phone _____________________________________

Work Phone ______________________________________
Tickets $20 X ______ = _______

Tickets(7) $100 X ______ = _______

Total = _______

Credit Card ___________________________

Exp Date ___________ Visa MC Amex

Signature _____________________________
Send this entry to: CDA, 4064 Synder Ln., Santa Rosa, CA 95404