(February 28, 2004)

NOT ONLY DID today's weather make me think of the upcoming spring turkey season so did my time spent at the Turkey Expo held today in Fair Oaks, California. There was a good turn out at the Expo and hunters had a chance to hear from some expert turkey hunters like Terry Knight, California DFG turkey biologist Scott Gardner, and a special guest, the new DFG Director, Ryan Broddrick. Besides listening to speakers, a separate room was setup for display booths for turkey hunters to check out during the breaks.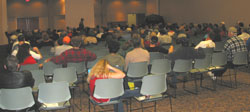 Interesting statistic about the 351 people in attendance. This was the first time 90% of them had attended this annual event.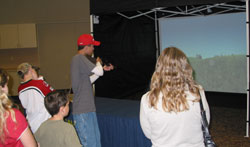 Young hunters kept the line long, waiting to use the shooting simulator.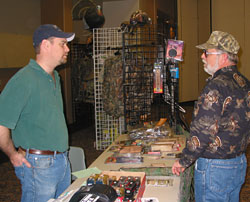 Pat Kittle (left) of Kittle's Outdoors & Sports Co. of Colusa, California, talks with a turkey hunter about turkey gear he had on display.


(February 26, 2004)

WHAT DO THOSE auction tags cost? Well, check out the amounts paid at the recent Mule Deer Foundation Convention in Reno, Nevada.
• Colorado Statewide Deer Tag $45,000
• Montana Mule Deer Tag $ 6,250
• Nevada Wildlife Heritage Deer Tag $60,000
• New Mexico Deer Tag $35,000
• Wyoming Governor's Deer, Elk or Antelope Tag $13,000

I'LL BE HANGING around the Turkey Expo on Saturday, February 28th in Fair Oaks, California. For more info on this event click this link Turkey Expo.

THE BUREAU OF Land Management (BLM) has scheduled an open house to gather public comments on the preparation of a draft environmental assessment (EA) to analyze the lease renewal of a recreational shooting range operated by the Inland Fish and Game Conservation Association at 8207 North Orange Street in Highland, California.

If you live in this area or are just happen to be in the Southern California area, we could use your help my attending this meeting and supporting the continuation of the range.

The open house will be held Tuesday, March 2, 2004, from 3:00 p.m. to 8:00 p.m. at the Elks Lodge at 2055 Elks Drive, in San Bernardino.


(February 23, 2004)

THE LATEST ISSUE of WesternHunter.com is out and I think you will like the content. Mountain lions, beautiful mule bucks in Oregon, more information about the tule elk tag drawing, products from the SHOT Show and more. Here is a quick link to the index of pages Vol 06 Issue 02.


(February 19, 2004)

I JUST FOUND out about a drawing for a California tule elk hunt. Because nonresidents cannot enter the regular drawing for these tags this is an opportunity for those outside of California to try for an elk that is found no where else in the world but California. The Paso Robles California Deer Association (CDA) Chapter is having the drawing. Only 300 tickets at $100 each will be sold. The drawing will be held April 3, 2004 at the CDA banquet. More details about the drawing will be available in next issue of WesternHunter.com. If you want more information about this drawing before then, contact Jerry Dunlap at (559) 433-HUNT.


(February 15, 2004)

I'M BACK FROM the SHOT Show (Shooting Hunting and Outdoor Trade) in Las Vegas that finished up today. There were over 1,500 booths at the show and seven miles of aisles. A lot of walking and lots of new products for hunters. Information about these products will be in both Across the Campfire and in upcoming issues of WesternHunter.com. Look for the next issue of WesternHunter.com this week. There were products which cost just a few bucks to those costing thousands of dollars. I'll be telling you about a number of items you will want to check out at your sporting goods store this year!


(February 10, 2004)

THE SHOT SHOW starts this week in Las Vegas. I'll be checking out the latest shooting and hunting gear. Look for my reports early next week.


(February 9, 2004)

THE DRAWING FOR for nonresident Southeast Idaho deer tags has been completed, according to Fish and Game license section supervisor Craig Wiedmeier. There were 817 applicants.

Fish and Game now has 298 of these tags left over for sale. They will go on sale February 23 on a first come-first served basis. They can be purchased via the telephone at 1-800-554-8685, over the Internet at www.state.id.us/fishgame, at any Idaho Fish and Game license vendor and Fish and Game offices. The cost of the tag is $241.50, including the controlled hunt application fee. Purchasers must have a valid Idaho hunting license.


(February 5, 2004)

POACHING CONTINUES IN Utah and the Division of Wildlife Resources needs your help.

A reward of up to $1,000 is being offered for information leading to the arrest and conviction of the individual or individuals responsible for slaughtering eight elk in November or December 2003.

The dead elk were found about five miles south of Ferron, and about one mile west of SR-10, in Emery County. Division of Wildlife Resources conservation officers Carl Gramlich and Mike Milburn found the elk on January 30 after receiving a report on the DWR's "Help Stop Poaching" hotline.

The eight elk, consisting of one bull and seven cows and calves, had been shot and left to rot.

Milburn is leading the investigation. Anyone with information is urged to call him at (435) 636-0277. Callers may remain anonymous but are encouraged to provide enough detail to help Milburn determine the validity of the information.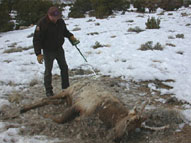 DWR Sergeant Carl Gramlich uses a metal detector to find the bullet that killed this spike bull elk. The bull was among eight elk killed by one or more poachers near Ferron in southeastern Utah. Photo courtesy of Utah Division of Wildlife Resources.


(February 4, 2004)

ZOGBY'S RECENT AMERICAN Values Survey included some questions on hunting. Here is one of the questions and the results.

Which of the following statements comes closer to your opinion?
Statement A: Killing wild animals for food or sport is an American tradition and an essential part of wildlife management.
Statement B: Hunting is a cruel sport and should be outlawed.

Ninety-two percent of gun owners and 73% of non-gun owners said hunting is a tradition and is essential to wildlife management. Five percent of gun owners and 20% of non-gun owners said that hunting is a cruel sport. Ninety-four percent of current military members and 85% of veterans said hunting is a tradition while 3% of current military members and 11% of veterans said hunting is a cruel sport.

Support for hunting as a tradition was strongest among Protestants (87%) and Catholics (80%) and weakest among Jewish voters (49%). Twenty-nine percent of Jewish voters, 17% of Catholics and 9% of Protestants said hunting is a cruel sport.


(February 3, 2004)

JANUARY 31st MARKED the end of this year's waterfowl season in the central part of California. Vince Sanguinetti sent us a couple of pictures which show him with his dog Buck in the rice fields of California's Butte Sink area and a close-up of a couple of limits. By the photos you can tell that Sanguinetti and his hunting partners were dropping limits of the big ducks, mallards and pintails, and they collected a couple of snow geese for good measure. Opening day in the fall already seems so far away.



(February 1, 2004)

THE WALLOW OF Death has been our most visited web page here at WesternHunter.com. The pictures of this elk were sent to us but without the story behind them. Recently, one of our readers forwarded us an email he received from someone who actually knew all about the pictures. Here is that email.

It is me, my brother and a friend pictured in the "Wallow of Death" pictures featured on the website. I heard about this bull stuck in a wallow off www.Bowsite.com back in September of 2000. The guy who first found him emailed me directions from New York state. The bull was on national forest land outside Fraser, Colorado. I sent my brother who lives in Winter Park on a search and recover mission and he found the bull on the second trip. Unfortunately a bear was guarding the carcass and he couldn't pull it out with only two of them. I drove up from Denver with a buddy and four of us pulled the bull out.

He was uninjured as far as I could tell. No bullet or arrow holes. I boiled the skull and found a six inch pine stick shoved way up in his sinus cavity. Other than that it's a mystery on how or why he died. My guess is he got exhausted and drown — that hole was DEEEEEEP.

Right now the skull is hanging on the front of my house.

Now you know the rest of the story.

John Legnard
Denver, Colorado

Editor's Note: Here is the link to Wallow of Death.