Jerry Springer's

Across the Campfire

March 2004
(March 24, 2004)

SHARPEN THOSE BROADHEADS, there is a high probability the California Fish & Game Commission will approve more tule elk tags for archers who apply for the California Fort Hunter Liggett Tule Elk Hunt. The proposed change in the quota is from 20 antlerless and 14 bull tags to 40 antlerless tags (10 of them designated archery only), 6 either-sex tags (designated archery only) and 14 bull tags. The proposal also establishes the Archery Only Season to be on weekends (Saturdays and Sundays) and the Labor Day Holiday in September.

MOUNTAIN LIONS ARE causing a problem for the Arizona Game & Fish Department as it looks like they are going to have to go against their normal policy of not moving lions. A public safety issue and the eyes of to many people who don't know the difference between good wildlife management and a bag of oranges have forced the decision making to outside the Department. We'll give you more details in the next WesternHunter.com Issue coming out next week.

CABELA'S GOING PUBLIC. Cabela's Incorporated announced on March 22 that it has filed a registration statement with the U.S. Securities and Exchange Commission for an initial public offering of its common stock. They were founded in 1961 and claim to be the nation's largest direct marketer.


(March 20, 2004)

OH, THE COST of those special big game tags!!! Last night as I attended the California Deer Association Chico Chapter Banquet and Auction, I saw how much hunters are willing to pay in order to get those special hunt tags. Here are just some of the winning bids:

- $20,000 Oregon State Wide Deer Tag

- $20,000 California Golden Opportunity Deer Tag

- $18,000 Santa Rosa Island Mule Deer Hunt

- $7,000 California Special Pronghorn Antelope Tag

- $6,900 Bell Ranch PLM Deer Tag

Even though prices like these may put those tags out of reach for many of us, the bright side is that all of this money is going toward wildlife management now and in the future.


(March 15, 2004)

DRAFT DEER HARVEST data from last year's California deer season show some interesting trends. While all the returned tags are not included yet, the extremely hard to draw Goodale Late Season Buck Hunt shows why there is such a demand for these tags. Eighteen hunters out of the 25 tags handed out bagged bucks for a 72% success rate. The G8 Hunt followed with a 65% success rate.

Muzzleloader hunt M9 only had five tags but four bucks were brought in for a 80% success rate followed by the M11 hunt with a 60% success rate.

Junior hunters had great success in the J4 hunt at 66.7%, J19 at 64%, and J1 at 60%.

Archery hunters continued to show the A14 (X7b) hunt returns high success rates for their efforts with a 46.7% success. While A26 came in second at 44% success.

X zone rifle hunters also showed X7b was the place to have a tag with a success rate of 42.9%, with X3a behind at 34.5%.

Incomplete figures don't allow me to give you info on the other hunts but it won't be too long before California hunters will received the 2004 Big Game Booklet (April timeframe).


(March 13, 2004)

WHAT WOULD YOU do if you made a mistake in the field and shot the wrong animal or too many? Making the wrong decision can be expensive for you and a waste for our wildlife. Check out our Game Law Violation page and you will know what to do if this happens to you. Click Game Law Violation.


(March 10, 2004)

HAVE YOU EVER hunted turkeys in the rain? If so, you know that it can cause problems for your turkey calls. At this year's SHOT Show I stopped by the Woods Wise booth and spent some time with owner, Jerry Petersen. Petersen gave me a demonstration of his Mystic Wet Sticks. If you are a slate call user, you'll be interested in these. Petersen put some cooking oil on one of the slate calls then made beautiful calls without a slip. They will work great even if your slate call has oil or water on it. So if you happen to be hunting turkeys and it starts to rain, let it pour, if you have a Mystic Wet Stick. You can check them out at www.woodswise.com.


(March 7, 2004)

I TOOK THIS photo of tule elk today as I was driving on Highway 20 from Clear Lake to Williams, California. While this picture only shows a few of the elk in the herd, I counted at least 19 head. Some of the bulls were already growing new antlers. These elk were along the road just west of the entrance to the Cache Creek Wildlife Area. The Cache Creek Tule Elk Hunt is one of the hunts California hunters can apply for in 2004. Tule elk are found nowhere else in the world but California.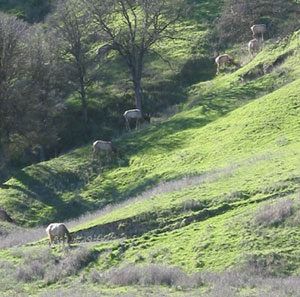 (March 4, 2004)

UTAH RAISES FEES for 2005. The Limited Entry Bull Elk fee jumps the most going from $483 to $795. To see all the fee changes click this link Utah Fees.

DEADLINES FOR DEER tag applications in Nevada and Wyoming are coming up within the next 8 to 11 days. Click here for more info Deadlines.


(March 3, 2004)

MAXIMUM ALLOWED BY law is what Arizona is proposing for hunters' fees on certain hunting license and permit-tags. What follows are the Game and Fish Department's proposed fee increases.

- Antelope, resident hunt permit-tags would be raised to $65, and non-resident hunt permit-tags will be raised to $325.

- Bear, resident hunt permit-tags would be raised to $14.50, and non-resident hunt permit-tags will be raised to $200.

- Bighorn sheep, resident hunt permit-tags would be raised to $195, and non-resident hunt permit-tags will be raised to $1,000.

- Deer, resident hunt permit-tags would be raised to $19.50, and non-resident hunt permit-tags will be raised to $125.50.

- Elk, resident hunt permit-tags would be raised to $78, and non-resident hunt permit-tags will be raised to $400.

- Javelina, resident hunt permit-tags would be raised to $12.50, and non-resident hunt permit-tags will be raised to $70.

- Mountain lion, resident hunt permit-tags would be lowered to $10, and non-resident hunt permit-tags will be raised to $200.

- Turkey, resident hunt permit-tags would be raised to $11.

The public will have the opportunity to submit comments on the proposed changes from March 19 to April 18 after they are published in the Arizona Administrative Register. For additional information, call (602) 789-3271 or send comments by e-mail to rulemaking@gf.state.az.us.


(March 1, 2004)

FEAR FACTOR AT the Tejon Ranch in California? Yes, that was the question I said to my wife recently as we watched an episode of Fear Factor on television. Fear Factor is a show that makes you turn your head during some of the eating challenges.

The lake the helicopter was flying over looked very much like the one I passed as I drove into the ranch a year ago for a hog hunt. I sent an email to Don Geivet, game manager for the ranch, and asked him the question along with how the prospects looked for this year's hunting. Here was his response:

"You are correct, those episodes of Fear Factor were filmed at our lake. The outlook for the next few months is excellent....lots of wild pigs for Pig-O-Rama hunts and guided hunts, also outlook for turkeys is great, lots of older age birds (this is due to very difficult weather conditions the last two years)."

The Tejon Ranch is the largest ranch in California, 270,000 acres. The hunting is great. If you are interested in learning more about their hunting program you can call Don at (661) 663-4208.