(February 19, 2005)

SOME ANTLERS ARE illegal to pick up in the woods, well at least in Utah. Hunters should check their states' laws regarding hauling those antlers out of the woods and back to your vehicle. The picture below shows ones you should just pass by in Utah. Click the link below for the full story.
Antlers — What's Legal?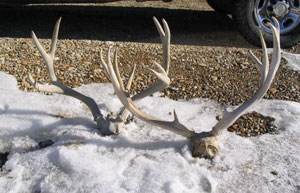 (February 13, 2005)

I MUST HAVE been sleeping! Some how I missed the fact that the California Department of Fish and Game approved a two week archery only turkey season that begins after the regular season ends. This will give archers a chance at turkeys without any shotguns in the woods. Because there are fewer archers, those turkey woods should be less crowded, especially on public land.

Turkey season in California starts this year on March 26 and runs through May 1. The archery only turkey season starts on May 2 and runs through May 15.


(February 12, 2005)

I DON'T HAVE the whole story on this but I wanted our California readers to know about the email I received from the California Waterfowl Association (CWA) regarding the Fish and Game Commission. The hunting community was backing Marilyn Hendrickson. Here is the email:

GOVERNOR SCHWARZENEGGER WITHDRAWS NOMINATION OF MARILYN HENDRICKSON FROM FISH AND GAME COMMISSION

With deep regret, CWA announces that Governor Schwarzenegger withdrew Marilyn Hendrickson's appointment to the California Fish and Game Commission late yesterday afternoon. Appointed by the Governor to a seat on the Commission in March 2004, Ms. Hendrickson had to be confirmed by the State Senate by mid-March, 2005, in order to serve a full 6-year term. CWA expresses our sincere appreciation to those of you who responded to our eNews Action Alert late last week asking for letters of support for Ms. Hendrickson to members of the Senate Rules Committee.

Early last month, citing concern over her voting record during her 11-month tenure on the Commission, a coalition of environmental groups launched an all-out campaign to deny Senate confirmation of Ms. Hendrickson's appointment. In response, CWA and others countered with a campaign of our own -- with the showdown expected to take place in front of Senate Rules Committee, and possibly the Senate Floor, over the next several weeks. Unfortunately, just as our efforts appeared to be making headway at the Capitol, the Governor unexpectedly and inexplicably pulled her appointment.

In an effort to effectively argue the environmental coalition's claims, CWA conducted a thorough analysis of Ms. Hendrickson voting record while on the
Commission and found not a single vote that wasn't backed by sound science, rationale, and judgment. In our opinion, Ms. Hendrickson demonstrated an excellent understanding of complex and controversial fish and game resource issues and showed true knowledge and leadership while on the Commission. CWA believes that Ms. Hendrickson has every reason to be proud of her record while on the Commission, and we thank her for her efforts to protect and enhance California's fish and wildlife resources and our outdoor traditions.

CWA now hopes to work with the Governor's administration, the Department of Fish and Game, and others to identify a suitable candidate to replace Ms. Hendrickson.


(February 10, 2005)

THE LEAD VOTE! In a 3-to-1 vote last week the California Fish & Game Commission voted against the request to ban the use of lead bullets.

TIME TO TALK turkey again at the 8th Annual Wild Turkey Expo on March 5 to be held in Fair Oaks, California. Put on by Wilderness Unlimited and the California Department of Fish and Game, this one day event continues to be a huge success by the high percentage of new turkey hunters who attend each year.

THE RUGER 204 is becoming a very popular caliber based on all of the new firearms from multiple companies which were announced at this year's SHOT Show. Why the 204 instead of the .22-250? Well, according to the staff at the Hornady booth at the SHOT Show, it's faster, but more important its very light recoil will not pull you off of your target allowing you to see you bullet hit it's mark.

GOOD NEWS FOR Deer - The California Deer Association held its first two fund raising banquets and netted over a quarter million dollars for the deer herds in California. With their banquet season just beginning it looks like a lot more projects will receive funding. If you are interested in more information about this organization or their upcoming fund raising banquets go to their website at www.caldeer.com.


(February 5, 2005)

IS THIS PIG Iron? You might be staying, "What is he talking about?" Well, just click on the link below and you will see what just might be a very interesting firearm to use on your next wild hog hunt.

During the SHOT Show I had a chance to shoot the new Smith & Wesson 460XVR revolver. Smith & Wesson claims that this is the most powerful .45 caliber revolver in the world.

Just take a look.
460XVR


(February 3, 2005)

WHAT A TRIP! Well, Diane and I are back from the SHOT Show in Las Vegas. What a great trip we had. Our first stop was on the way into town last Wednesday, we spent some time with Ron Rupert, General Manager of the recently opened Bass Pro Outdoor World store. This is a fantastic place, and we will share more with you in the next WesternHunter.com email.

On Thursday we had a chance to shoot a lot of nice firearms. The SHOT Show opened on Friday and we spent three days in press conferences and seeing all the new hunting and shooting products. Look for our SHOT Shot Review in our next email.